Announcing the 2018/19 Season
(Los Angeles, CA) February 12, 2018 – Los Angeles composers feature prominently in the Los Angeles Master Chorale's 55th concert season announced today by Grant Gershon, Kiki and David Gindler Artistic Director, and Jean Davidson, President and CEO. The contemporary works include the world premiere of Eric Whitacre's
The Sacred Veil
and the West Coast premiere of Reena Esmail's
This Love Between Us: Prayers for Unity
. All concerts will be performed in Walt Disney Concert Hall where the Master Chorale is choir-in-residence.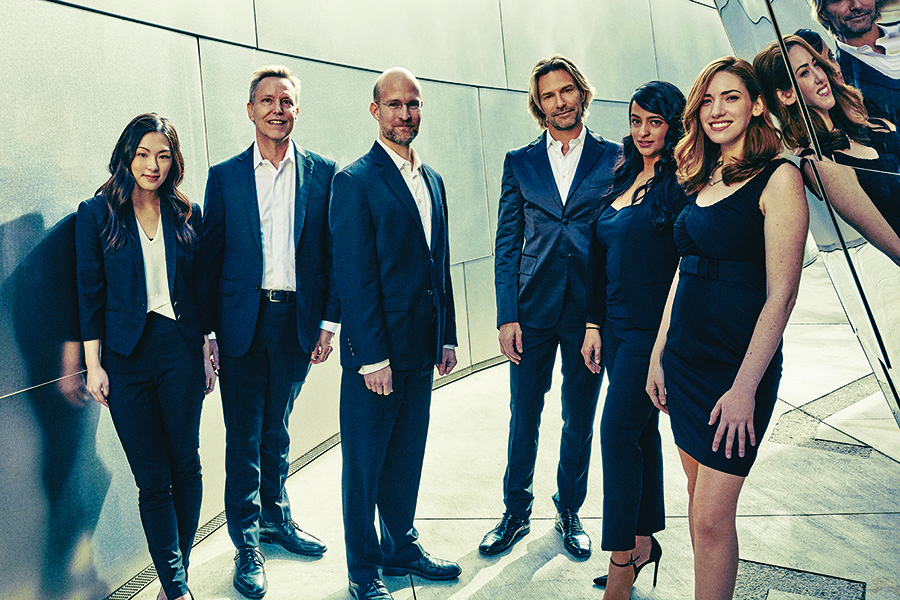 L-R: Jenny Wong, Associate Conductor; Grant Gershon, Kiki & David Gindler Artistic Director; Shawn Kirchner, composer;
Eric Whitacre, composer & Swan Family Artist-in-Residence; Reena Esmail, composer; and Dale Trumbore, composer.
The Los Angeles Master Chorale's 2018/19 concert season, beginning in September 2018 and running through May 2019, also features
Songs of Ascent
by Shawn Kirchner and
How to Go On
by Dale Trumbore on subscription series programs alongside the Mozart and Duruflé Requiems respectively. Esmail's
This Love Between Us: Prayers for Unity
is paired with Bach's
Magnificat
.
"I was aware of the tremendous reception that both Reena Esmail and Dale Trumbore's stunning works had received when they were premiered and was eager for the Master Chorale to perform them. We know Reena well from her remarkable work with Street Symphony and have previously performed works by Dale, who is a composer I greatly admire. We also have a large contingent of Shawn Kirchner aficionados in our audience who I knew would welcome a repeat performance of
Songs of Ascent
that we so proudly premiered in 2015. As I considered the other choral works we wanted to feature, thematic links emerged and the programs pairing the contemporary with classics developed," says Grant Gershon. "For this new season to also feature the world premiere of Eric Whitacre's largest work to date,
The Sacred Veil
, makes it a true celebration of the remarkable composing talent we have here in Los Angeles. When the Master Chorale sang "I Fall," one of the movements of
The Sacred Veil
, last year it was an exceptionally moving experience and I expect this full-length work will be a milestone for Eric and for the Master Chorale."
In December, a new contract between the Los Angeles Master Chorale and the American Federation of Musicians was ratified establishing the Los Angeles Master Chorale Orchestra as a roster ensemble. In the 2018/19 season, orchestra members will perform on seven of the nine concert programs.
"We are pleased to have worked closely with our colleagues at the AFM Local 47 to formalize what had already been occurring in practice, namely creating a permanent roster of musicians to play in our orchestra," says Jean Davidson. "Upon signing our new agreement, we also signed onto an Integrated Media Agreement, granting terms and conditions for the creation and distribution of audio and audio-visual media by the orchestra musicians that we previously did not have. We are grateful to have such a positive working relationship with our musicians and Local 47 and look forward to performing this exciting new season with them."
The Master Chorale and Grant Gershon will also travel outside of Los Angeles in the 2018/19 season and into the 2019/2020 season with their acclaimed production of Orlando di Lasso's
Lagrime di San Pietro
(Tears of St. Peter) directed by Peter Sellars. The tour includes a performance at the Barbican in London on May 23, 2019 as part of its "Barbican Presents" series. More dates and venues will be announced in coming months as they are confirmed.
In addition to its own concert season, the Los Angeles Master Chorale will perform with the Los Angeles Philharmonic on seven of its recently-announced 2018/19 centennial programs. The Master Chorale also regularly performs with the LA Phil at the Hollywood Bowl.
---

Los Angeles Master Chorale singers photographed for the 2018/19 season brochure in a quintessential L.A. location - their car. L-R: Margaurite Mathis-Clark, Holly Sedillos, Adrien Redford, Mark Edward Smith, Niké St. Clair, and Bryan Lane.


VIEW THE SEASON BROCHURE
RENEW YOUR SUBSCRIPTION
SUBSCRIBE FOR AS LITTLE AS $111
---
2018/19 SEASON (CHRONOLOGICAL)
---
THE MOZART REQUIEM
Saturday, September 22, 2018 - 2 PM
Sunday, September 23, 2018 - 7 PM

Shawn Kirchner | Songs of Ascent
Wolfgang Amadeus Mozart | Requiem in D Minor, K 626

Mozart's Requiem has become one of the most recognized classical works of all time. This revered work is paired with Shawn Kirchner's Songs of Ascent, a hope-filled setting of the psalms sung by pilgrims journeying to Jerusalem.

Grant Gershon, conductor
100 singers, orchestra, guest soloists

LEARN MORE

---
BACH'S MAGNIFICAT
Sunday, November 18, 2018 - 7 PM
Johann Sebastian Bach | Magnificat in D major, BWV 243
Reena Esmail | This Love Between Us: Prayers for Unity – WEST COAST PREMIERE

J.S. Bach's Magnificat is a majestic musical manifestation of the impulse to rejoice. Magnificat was a direct influence on Reena Esmail who wrote This Love Between Us: Prayers for Unity — an exploration of "The Golden Rule" — specifically to be paired with it.

Grant Gershon, conductor
62 singers, orchestra, sitar, and tabla

LEARN MORE
---
ENGLISH CATHEDRAL CHRISTMAS
Sunday, December 2, 2018 - 7 PM

Ralph Vaughan Williams | The First Nowell
John Tavener | The Lamb
Cecilia McDowall | Before the Paling of the Stars
Peter Warlock | Bethlehem Down
Gustav Holst | Christmas Day
And other holiday favorites

Conjuring up images of candlelit cathedrals and the jewel-toned glow of stained glass windows, we bring the great, unbroken tradition of British caroling to Walt Disney Concert Hall.

Grant Gershon, conductor
Jenny Wong, associate conductor
62 singers a cappella, organ

LEARN MORE

---
FESTIVAL OF CAROLS
Saturday, December 8, 2018 - 2 PM
Sunday, December 15, 2018 - 2 PM

White Christmas | arr. Deke Sharon
O, What a Beautiful City | Shawn Kirchner
Winter Wonderland | arr. Greg Jasperse
Lo, How a Rose E'er Blooming | arr. Shawn Kirchner
We Need a Little Christmas | arr. Jerry Rubino
And other carols and songs of the season

It's the most wonderful time of the year – and one of the most popular! Herald the arrival of the holidays with our annual selection of treasured carols and songs sublimely sung by the Los Angeles Master Chorale. Artistic Director Grant Gershon conducts the array of festive treats, combining traditional favorites with newer arrangements, with some special seasonal surprises.

Grant Gershon, conductor
100 singers, organ, and piano

LEARN MORE

---
HANDEL'S MESSIAH
Sunday, December 16, 2018 - 7 PM

George Frideric Handel | Messiah

The perennially popular Handel's Messiah jubilantly conducted by Artistic Director Grant Gershon and sung by the Los Angeles Master Chorale is a Christmastime concert experience not to be missed.

Grant Gershon, conductor
48 singers, orchestra, soloists

LEARN MORE

---
38TH ANNUAL MESSIAH SING-ALONG
Monday, December 17, 2018 - 7:30 PM

George Frideric Handel | Messiah

Our popular do-it-yourself version of Handel's Messiah, where the audience is the chorus, returns! This will be the 38th Annual Messiah Sing-Along and is sure to pack the house. Bring your own score or purchase one in the lobby. A limited number of VIP onstage tickets are available to bring you closer to the musical action. Hallelujah!

Grant Gershon, conductor
Orchestra, soloists, audience as chorus

LEARN MORE

---
ERIC WHITACRE'S THE SACRED VEIL
Saturday, February 16, 2019 - 2 PM
Sunday, February 17, 2019 - 7 PM

Eric Whitacre | The Sacred Veil – WORLD PREMIERE

With The Sacred Veil, Eric Whitacre, the Master Chorale's Swan Family Artist-in-Residence, has created a powerful score for Silvestri's heartfelt poetry exploring the fragile line between love and loss.

Eric Whitacre, conductor
40 singers, instrumentalists, soloists

The Sacred Veil is sponsored by Linda J. Hodge, Faith Raiguel and Billy Weber, Kathleen and James Drummy, and Susan Erburu Reardon and George Reardon.

LEARN MORE

---
THE DURUFLÉ REQUIEM
Sunday, March 17, 2019 - 7 PM

Dale Trumbore | How to Go On
Maurice Duruflé | Requiem, Op. 9

Instilled with comfort, Maurice Duruflé's beloved Requiem leaves listeners with a lingering mood of confident hope while Dale Trumbore's "secular requiem" finds beauty and release in the embrace of everyday life, and ultimately offers up solace.

Jenny Wong, conductor
48 singers, chamber orchestra

LEARN MORE

---
GREAT OPERA & FILM CHORUSES
Saturday, May 4, 2019 - 2 PM
Sunday, May 5, 2019 - 7 PM

Giuseppe Verdi | Va, pensiero (Nabucco)
Danny Elfman | Ice Dance (Edward Scissorhands)
Giacomo Puccini | Humming Chorus (Madama Butterfly)
John Williams | Epic Highlights from Star Wars
And many more

Grant Gershon and the Los Angeles Master Chorale draw back the curtain to revel in the most theatrical blockbusters of stage and screen.

Grant Gershon, conductor
100 singers, orchestra

LEARN MORE